Joan and Rich Little aspired to live in Sonoma Valley, raise a family, grow grapes and one day produce premium red wines. This dream was one step closer to reality in 1996 when they purchased a 25 acre property from the Hanford Family in Glen Ellen. Since that time, they have raised four children, restored the property's century old farmhouse, planted 17.5 acres of grapes and Rich even found time to make a little music with his bands. Eventually, Joan and Rich decided to blend their wine-growing knowledge with the winemaking expertise of Joan's brother, Ted Coleman. In the beginning, they experimented with small lots of wine, which received great praise from their family and friends.
In 2002, Joan and Rich began their efforts to establish Little Vineyards as a small bonded winery producing no more than 2500 cases a year. They were approved to crush their first vintage and Ted crafted two award-winning wines from their estate grown fruit: 2002 Zinfandel and 2002 Resonance, a Syrah and Cabernet Sauvignon blend.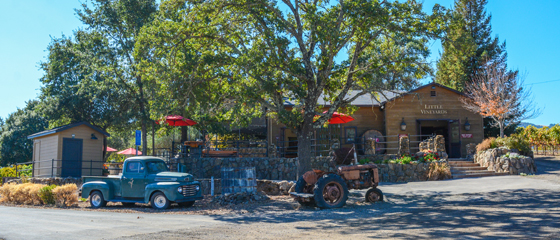 Situated in the heart of Sonoma Valley, Little Vineyards Family Winery is nestled in the Valley of the Moon between the sunbathed rocky slopes of the Mayacamas and Sonoma Mountain ranges. Our family estate includes 17.5 acres of planted vineyards. The vineyards are cooled in the early mornings and late evenings by coastal fog from the San Francisco Bay. As the fog retreats, the vineyards are warmed by rising daytime temperatures and underground hot springs. The vineyard soil is gravelly, well drained and descends downward to meet the Sonoma Creek.
The Sonoma Valley appellation is ideal for producing quality fruit and outstanding red wines. Zinfandel, Syrah and Cabernet Sauvignon are the primary varietals planted on our vineyard. We have a small block of vines that we call our Spice Rack consisting of a few rows of varietals like Cabernet Franc, Montepulciano, Petite Sirah and Petit Verdot.